Let me help you
Rock your competition with a new website, or get some relief with your own personal tech support today.
Custom Websites
Simple Website Solutions
Wordpress to the rescue! Using Wordpress we can get you well on your way to a great web experience. Wordpress is an open-source CMS or Content Management System that is used world-wide as a platform for building websites. The dashboard is intuitive and great for helping you manage your own website without too much hassle.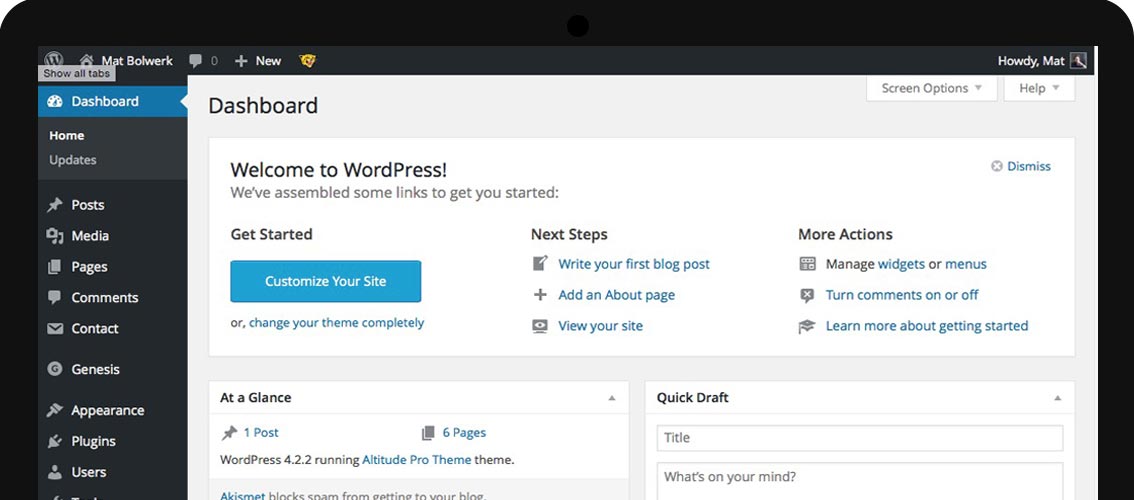 Get Some Tech Support
Looking for some help with your computer? Maybe with a mobile device or a tablet? No matter what you need I am here to help.
Enjoy some tech support
Computers can be tricky things, and you can get malicious programs from just about anything these days. I offer full tech support no matter what the issue or what the device. If I don't know it I will learn it for you. Just need help with a specific device let me know and I will do whatever possible to assist you.
Let's remove those prying eyes
Have some malware wreaking havoc on your computer? Let me help, I have over 8 years in tech support helping people from all walks of life with their machines. Just send me an email and we can get you on your way to a smooth experience.
"Mat is always up to date on all the latest information, and is truly an Apple expert. He is also great at marketing, and has helped me immensely with my website and digital marketing."
"Mat did a fantastic job on my website. He designed my logo, banners, and business cards also. Feedback has been amazing on all of them!"
Frequently Asked Questions
How much does a website usually cost?
That depends on how much custom work needs to be done. There is a base fee to setup the servers, forward domains, setup Wordpress. All custom work on top of the basic setup will be charged by the hour plus the cost of hosting per month and any add-on services.
Will I be able to edit my own website when you are done?
Absolutely! Wordpress is a user-friendly platform that will allow you to manage your own website when all is said and done. My goal is to make it easy for you, but there will always be a learning curve so be willing to learn. If you don't want to make changes to your website we can talk about a management plan.
Can you travel to me or do I have to drive to you?
For our first meeting I would prefer a face-to-face chat but anytime after that we can chat in any fashion. If you prefer video chat, a phone call, texting, or even Google chats I have no problem doing any of that. If you have tech support needs I can connect to your computer remotely most of the time so that saves the mileage cost.
How often do you reply to emails?
I will do my best to contact you within a day of receiving an email from you. Once we have been in contact I am totally happy using a phone, or Skype, or FaceTime, or Google Hangouts, etc. Just let me know your favorite means of communication.
Help! Something on my [website/computer] exploded what do I do!?
First step: calm down. Second step: Call me. We will figure out what the issue is and if there is anything I can do for you. If you are the kind of person who gets frantic, wait a few minutes to call when you are totally calm. No one likes talking to someone who is upset.
What forms of payment do you accept?
I am setup to accept just about any form of payment. If we only have a remote session I can invoice you and have you pay with credit or debit card, or you can mail me a check. Whatever is best for the situation we can do.